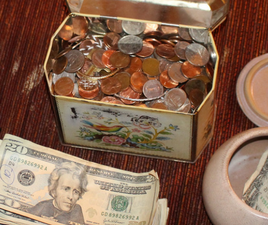 HEALTH PORTFOLIO (H-Portfolio)
Health = Wealth
H-Asset: Family Wealth 
H-Investment: Advocacy
Advocacy is another very wise H-Investment that improves your overall health and wealth. Building an H-Portfolio that includes this H-Investment (Advocacy) is very affordable (and in most cases it is FREE). I began advocating for myself more than 30 years ago, after my illness, and this led me to understand other areas of medicine and health care. I take pride in advocating. My own H-Portfolio has improved significantly because of it, and as a result, it has improved my own healthcare and healthcare trajectory.
Here is my H=W (Health = Wealth) formula: In order to be a successful advocate, you need the time, the energy, knowledge, and help. I believe that it is very important to teach others how to be an advocate. This is what your own H-Investment (Advocacy) could include:
Buy a journal that you use for documenting any of your signs and symptoms and bring the journal with you to your next doctor's appointment. Review it with your doctor.

Take your spouse or friend with you to your child's next doctor's appointment, so you can both be there and can "compare" the information given.

Request your CD and medical records after you have a spine X-ray, so that you don't need the X-ray repeated at another doctor's visit and can limit radiation exposure.

Get a second (or third) opinion if you are not given any other options.

Prepare ahead of time for medical appointments with questions.
If you are fortunate, you may not have experienced the need to make this H-Investment. However, one crisis can wipe out your entire H-Portfolio! We are all in the same boat and require advocacy, so be a mentor and help your family get started early. Advocacy can reduce and prevent your long-term costs and improve your health. According to the National Commission on Prevention Priorities, preventive services not only save lives, but also save money. Such measures could save nearly two million lives and nearly $4 billion dollars a year! 
I cannot express the importance of building an H-Portfolio that includes this important H-Investment. This is just one more way to pay your health forward by adding H-Investments to your and your family's H-Portfolio that could fund your health. It is never too early or too late to invest in your health.
Photo Credit: Lisa Williams
About Lisa's Fund Your Health Blog
Lisa developed the Fund Your Health Blog to inspire people to achieve their health and wellness goals, by sharing what she has learned throughout her career and from her own personal journey. With Lisa's relentless pursuit to restore the natural healing process, she reviews specific health assets (H-Assets) and recommends sound health investments (H-Investments) for building health dividends (H-Dividends) that are the key to a healthy lifestyle and will pay off in years to come. Yes, it is all about the H's in her Health Portfolio. Using her approach will empower you to find your own solutions for a healthy lifestyle.
Sign up for my free advice blog
About Dr. Lisa Williams
Lisa has developed a business culture of health equals wealth and a core philosophy that bridges the gap between health and wealth using what she calls H-Portfolios (Health Portfolios), which leads to overall health. Lisa's quest for health answers began nearly 30 years ago, when she needed to start building her own H-Portfolio, and this led her to create a multi-pronged approach to health and wellness, and pursue other areas of medicine and attain her acupuncture license. Lisa has managed several health clinics and consulted in multiple corporate, health and wellness industries and branches of medicine. Her areas of practice and experience have included corporate wellness, fitness, health and beauty, internal medicine, neurology, pain management, pediatrics, rehabilitation, schools, scoliosis management, sports injuries, and weight loss clinics. 
Dr. Lisa Williams is a Health and Wellness Consultant and the founder of Gentle Touch Acupuncture and Gentle Touch Physical Therapy. in New York City. For more information: Contact Dr. Lisa Williams
Disclaimer: This material is provided for informational purposes only, and is not intended as medical advice, diagnosis or treatment. Information on this site is not meant to substitute for the advice provided by your own physician or other medical professional. Doing anything recommended or suggested on this website/blog must be done at your own risk. 
Please follow and like us:
Related posts: